Upcoming Events
October 25-26: HS Retreat, No School K-8, Parent Teacher Conferences K-6
October 30: Parent Teacher Conferences 7-12 (3 -7 pm)
November 1 & 2: No School
November 12-15: Health Screenings
November 13: Winter Athletic Meeting @ 6:30 pm
November 16: Compassion Dress Down Day (bring at least $2)
November 21: Grandparent's Day, 1/2 Day of School
November 22-23: Thanksgiving Vacation
Grades are finalized, be on the lookout to receive Q1 report cards next week.
GRADES K-6 | October 25-26
Every family in grades K-6 have been assigned scheduled times for the parent / teacher conferences on October 25th and 26th. Please mark your calendar with your assigned appointment right away and reserve in your schedule.
Let the office know ASAP if you unable to make your conference time, otherwise we will look forward to seeing you on your day and time.
GRADES 7-12 | October 30
Conferences on 10/30 (3-7 PM) are for new families only.
If you are not a new family but would like a conference, contact the office.
HEALTH SCREENINGS, NOVEMBER 12-15
All BCS students will be tested by school nurses from the Exeter School District. All students in grades K-12 will have their vision tested. Students in K, 1, 2, 3, 7, and 11 will have their hearing tested. Students in grade 7 will also be examined for scoliosis. (This will involve students bending over and being asked to lift their shirt for the nurse so that the spine can be examined. Please alert your 7th grade student of this, if you think it will be concerning to him or her.) If your child fails his/her vision or hearing screening, a letter will be sent home to you indicating the failure. You must then follow up with a physician for further examination.
NOVEMBER 21
Make sure your grandparents save the date! November 21st, a half-day of school, is our annual Grandparents Day.
The day kicks off with a breakfast for students and grandparents to share. The day continues with activities for grandparents to share with their grand kids, and then ends with an all-school chapel event. Parents are welcome to attend the chapel as well. This is a half-day of school, so if grandparents and students want to spend the afternoon together, it's a great opportunity for them to go out for lunch after dismissal.
We need lots of volunteers to help provide breakfast, so if you can help, sign up here.
Grandparents will be receiving invitations in the mail, so if the grandparents in your family have moved, or if you're a new family to BCS this year, please email Miss. Klase rklase@berkschristian.org with the appropriate addresses.
Students will receive their student's art personalized sticker packet next week. They will he sent home with the PK-6th graders.
Order for yourself or as Christmas gifts! As a bonus, BCS benefits with every purchase. Orders will be due back Monday, November 5th (if you're paying with cash/check) or Friday, November 9th (if you're placing your order online).
Volleyball Season: Awards
Middle School
Coach's Award - Kendra.R
Mighty In Spirit - Bryanna.W
Most Improved- Genesis.D
BCS has filled our Varsity and JV coaching positions: coach announcements coming soon!
Here's some important dates to remember:
Tue, 10/30 @ 3pm-4pm: MS boys open gym

Tue, 10/30 @ 4pm-6pm: JV & Varsity open gym

Tue, 11/13 @ 6:30pm: mandatory winter athletics mtg

Fri, 11/16: first day of basketball practice
WINTER SPORTS: SEASONAL ATHLETIC MEETING
Parents and students playing winter sports are required to attend the Athletic Meeting on November 13th at 6:30 pm. The meeting will begin with a presentation from the Athletic Director, and will be followed up by individual team meetings led by each coach.
CIPPE Forms and recertification forms are also due at the November 13th meeting.
Operation Christmas Child at BCS
Our 3rd-5th graders with their Big Best Friends will be buying supplies and sending shoeboxes through Operation Christmas Child. If families with students in other grades would like to pack a shoebox and send it in they are due by November 16th. For more information on how to pack a shoebox go to https://www.samaritanspurse.org/what-we-do/operation-christmas-child/.
West-Mont Christian Academy Play
BCS & WCA continue our partnership through their fall play! Three BCS students are in this show that you don't want to miss. You can buy tickets at http://www.west-mont.org/. The shows are November 16th, 7PM, November 17th, 2PM, and November 17th, 7PM.

Look for a weekly update here on what the PTO has been up to lately!
The PTO (Parent/Teacher Organization) had our very first meeting on Monday, Sept. 24th. Eight parents attended and discussed the group's purpose, leadership structure, and programs. We are excited to come alongside the teachers and support them in their very important work of teaching our kids! Not everyone could make it to the meeting, but we will be sending out the minutes each month to keep everyone up to date with what is going on. If you would like to be included on those emails, send a message to Corrie Mast cmast@berkschristian.org and she will get you on the list.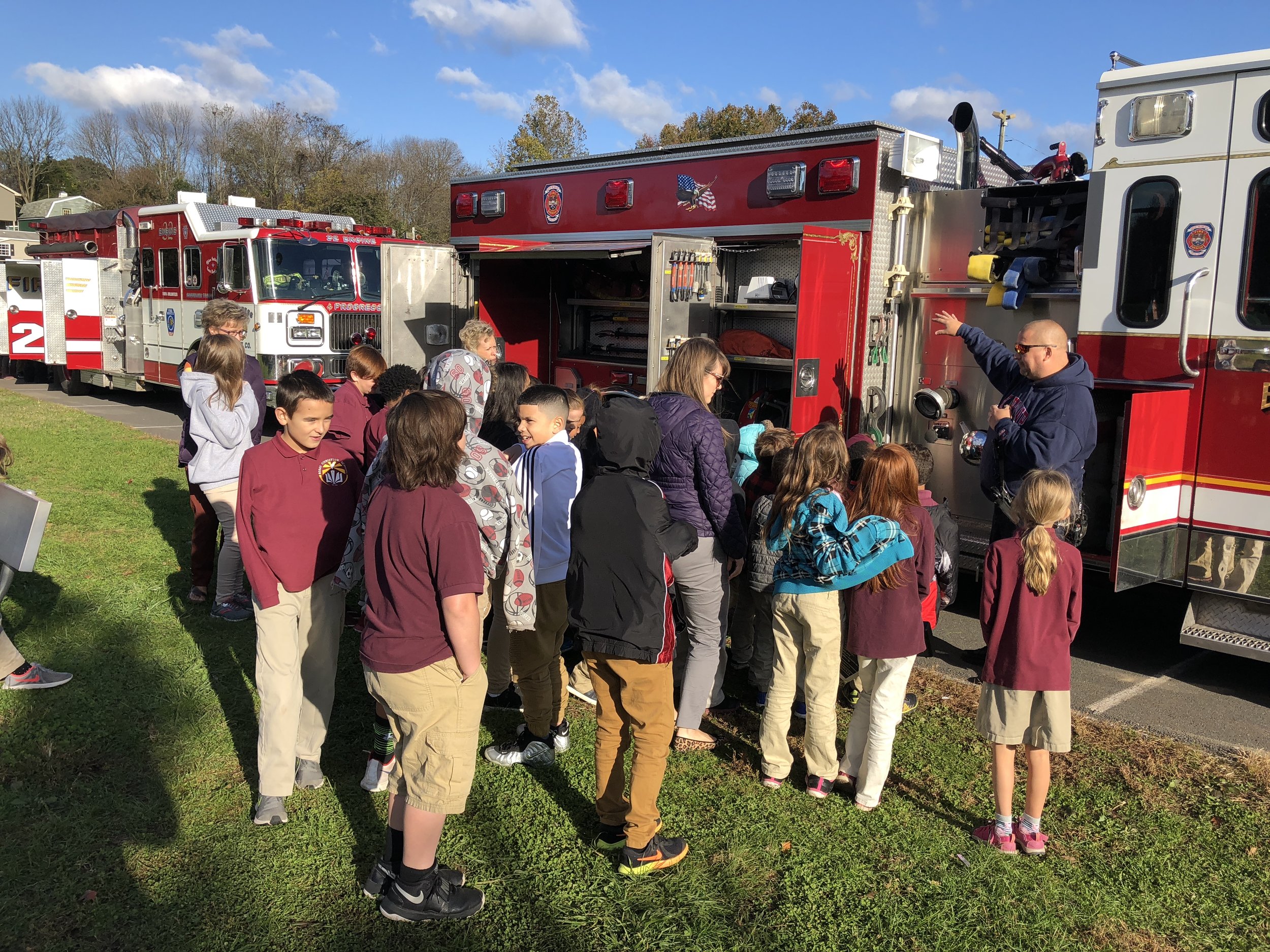 This past week, professionals from the Exeter Township Fire Department came to BCS to give our elementary students a lesson about fire safety and show off their fire truck and equipment.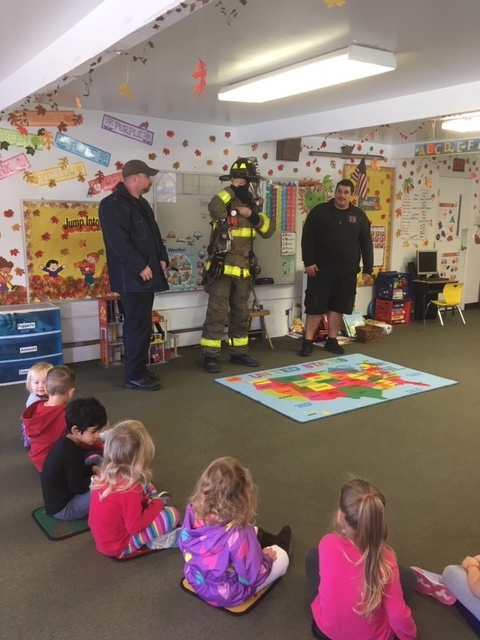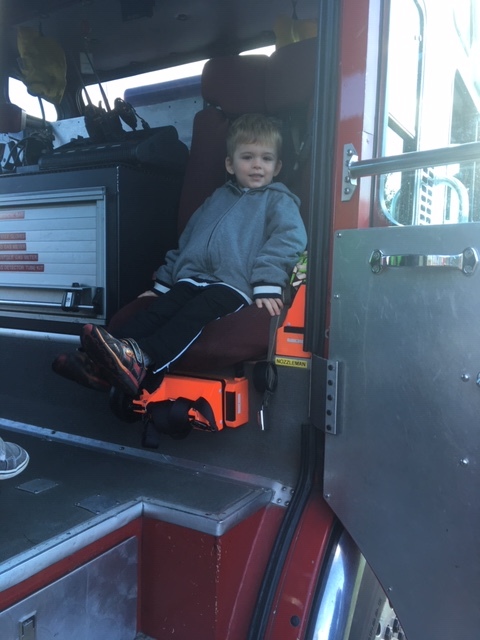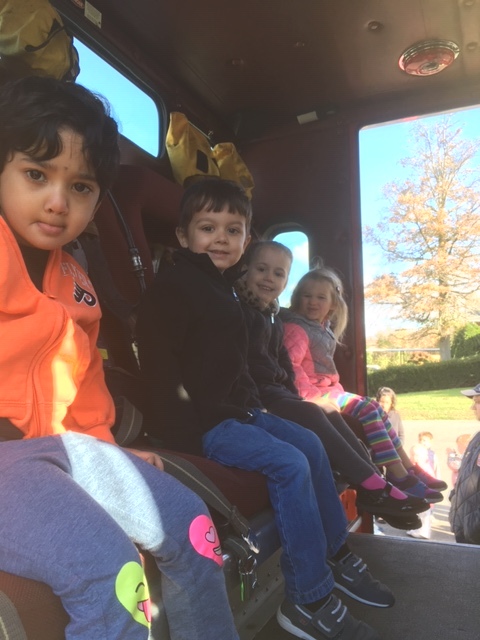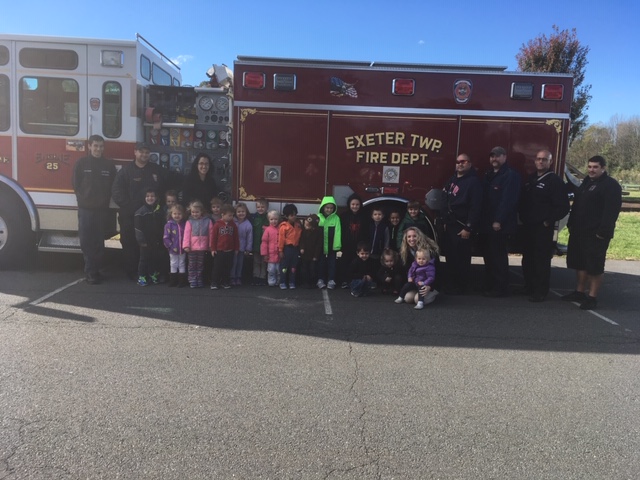 Preschool students enjoying their visit with the Exeter Township Fire Department.

Lunch Menu for the week of 10.29.18
Monday, October 29
Elementary: Hamburger on a bun, lettuce & tomato slices, backed beans, french fries, mandarin oranges
HS Hot: Open faced hot turkey sandwich, mashed potatoes, steamed carrots, fruit salad
HS Cold: French toast slice w/sausage, mashed potatoes, steamed carrots, fruit salad
HS Pizza: Mickey's Cheese Pizza, mashed potatoes, steamed carrots, fruit salad
Tuesday, October 30
Elementary: Lunch box meal, carrot & celery sticks, apple snack pack
HS Hot: Spicy or regular chicken tender wrap, pasta salad, fresh broccoli w/ dip, apple crisp
HS Cold: Pizza sticks w/ sauce, pasta salad, fresh broccoli w/ dip, apple crisp
HS Pizza: BBQ chicken flatbread, pasta salad, fresh broccoli w/ dip, apple crisp
Wednesday, October 31
Elementary: Chicken & waffles, California blend veggies, peaches
HS Hot: Nest nachos, lettuce & tomato, refried beans, corn, mangos
HS Cold: Egg, cheese & sausage sandwich, lettuce & tomato, refried beans, corn, mangos
HS Pizza: Buffalo Chicken Pizza, lettuce & tomato, refried beans, corn, mangos
Thursday, November 1
NO LUNCH
Friday, November 2
NO LUNCH