Upcoming Events
October 12: TOMORROW! All School Pep Rally & Dress Down Day (bring at least $2)
October 13: JOIN US FOR HOMECOMING!
October 17: Middle School Leadership Conference
October 19: End of Q1
October 25-26: Parent Teacher Conferences K-6
October 25-26: High School Retreat, No School K-8
October 30: Parent Teacher Conferences 7-12 (3-7 pm)
November 1 & 2: No School

We will have our first Pep Rally of the year on Friday, October 12th to get us excited for Homecoming! Students should bring $2 for the dress down day. Students that wear maroon and gold will have the chance to win a prize!
Games and activities for kids will start at 10:00am, followed by the 5th annual Quarter Auction at 11:30am. The varsity girls volleyball team will play following the auction, with the day capped off by the alumni volleyball game.
We need your help to make this day successful. Please sign up for an item (or two) to contribute. We will be selling food from 10:00 AM to 5:00 PM, so we will have a few breakfast options before serving lunch items. We also need help supervising the children's activities, 2-3 parents to help during the auction, and 1 parent in each of the 3 activity rooms from 10-11:30 am. See sign up button below for more details.
Dave Zerbe Studio - Gift certificate for a
family session & 11x14 canvas wrap print

TEACHER EXPERIENCES
Mrs. Judd - Bowling and Ice cream for 3 students
Mrs. Bromwell - Xtreme Air, Pizza & Movie for 3 people
Mrs. Conrad - Cookies at the Conrad's for 3 students
Miss Kline - Miniature golf and ice cream at Schell's for 2 students
Mrs. Reitz - Fall fun at Oley Turnpike Dairy for 3 students
Mr. Smither - Donut Day, Vol.2 - for 4 students
Mrs. Wengryn and Miss Musselman - Pizza, movie and icecream at Mrs. Wengryn's house for 5 students
Miss Klase - Shady Maple breakfast for 5 students
Mrs. Winzer - Daniel Boone's birthday celebration at Daniel Boone Homestead, Saturday, November 3rd including a picnic lunch
Mrs. Halter - Landis Valley Hands-on-Museum for 2 preschoolers
Mrs. Cirullo - Roller skating and arcade games at Ozzy's Family Fun Center for 2 students
Mrs. Klase - Laser tag and pizza - Mrs. Klase will host Daniel Klase and 3 students for two games of Laser tag at Laser Quest in Wyomissing and then all you can eat pizza at Infinto's pizza buffet.
class baskets
Preschool - Chocolate Bliss
Kindergarten: Tea Time
First Grade: Ice Cream Time
Second Grade: Bookworm
Third Grade: Spa Day
Fourth Grade: S'mores/Camp Out
Fifth Grade: Game Time
Sixth Grade: Family Fun Night
Seventh Grade: Slumber Party
Eighth Grade: All About Sports
Ninth Grade: Best of Berks County
Tenth Grade: Arts and Crafts
Eleventh Grade: Fall
Twelfth Grade: Outdoors: At Home and Abroad
Click the button below to check out our full list of items and a full list of Teacher Experiences that will be available to bid on at the auction!
CLASS BASKETS FOR AUCTION
We are looking for as many students as possible to help auction off their class basket. If you child will be present at the auction and would like to participate, contact Mrs. Bromwell at bbromwell@berkschristian.org
GRADES K-6
october 25-26
Each family in grades K-6 have been assigned scheduled times for the parent / teacher conferences on October 25th and 26th. Ability to switch your slot is limited, so please mark your calendar with your assigned appointment right away and reserve that time in your schedule.
Conferences for new families in grades 7-12 will be held on November 30th at 3-7 PM. If you are the parent of a student in grades 7-12 who is not new to BCS, you will not be assigned a conference unless you request one. Contact the office for questions.
Kids Kreations packets for preschool through 6th grade are on their way! Within the next two weeks, we'll be sending home an individualized packet which will show products (aprons, iPhone covers, mugs, tote bags, etc) you can purchase, all designed with your child's artwork. Order for yourself or as Christmas gifts! As a bonus, BCS benefits with every purchase. Orders will be due back Monday, November 5th, if you're paying with cash/check, or Friday, November 9th if you're doing your order online.
Middle school & VARSITY Volleyball Games
Friday, October 12
VARSITY 6:00 PM HOME vs. Lititz Christian School
Saturday, October 13 - HOMECOMING!!
MS 3:15 PM HOME vs. Salem Christian School
VARSITY 4:30 PM HOME vs. Salem Christian School
Monday, October 15
MS 4:00 PM HOME vs. Linville Hill Christian School
VARSITY 6:00 PM HOME vs. Solanco Christian School
Tuesday, October 16
MS 3:45 PM AWAY vs. Fairview Christian School
Thursday, October 18
MS 4:00 PM AWAY vs. High Point Baptist Academy
VARSITY 5:30 PM AWAY vs. High Point Baptist Academy
All game and practice schedules are available on the CCAC website.
Please use this as your guide each week.
Volleyball Game Spectators
Students staying after school for a volleyball game must go to the cafeteria to do homework until the game starts. Before the game begins, students should pay their $2 admission fee and sit on the bleachers to cheer. Parents: please plan on picking up your student approximately one hour after the game's start time.
If you'd like to sign to help serve concessions throughout the season, please sign up here.
Basketball sign ups are due Tuesday, October 16.
varsity basketball OPEN GYMS
Our senior guys will be leading our (non-mandatory) open gyms while we continue the search for a head coach. Meanwhile, make sure to sign up (see above).
Fri, 10/12: 4:00-5:15 PM

Tue, 10/16: 4:30-6:00 PM
WE NEED YOU TO TAKE ACTION TODAY to preserve and protect existing state school choice programs and give room for them to expand to new states. It is important that the Christian school community take this step on behalf of the low- and moderate-income families who benefit from scholarship tax credit programs. The deadline for action is October 11th, today!

The action we request is that you submit Public Comment on proposed IRS regulations that threaten scholarship tax credit programs and let the White House know your concern. We also urge that you ask your wider school community to do the same.
ACSI has prepared extensive Public Comment and FAQs on behalf of its member-schools. It may help serve as a model and provide additional information. Click here to access ACSI's resource page.
Open Positions AT BCS
Substitute Teachers
Berks Christian School is seeking substitute teachers for the 2018-2019 school year.
The job requires-
1. Flexible schedule
2. Bachelors degree (it does not have to be in education)
3. PA Criminal Background Clearance
4. PA Child Abuse Clearance
5. FBI Fingerprinting
If you are interested in being added to our sub list, please send your resume and written Christian testimony to Rebekah Klase at rklase@berkschristian.org.
Van Driver
Berks Christian School is seeking a part-time van driver for morning and afternoon pickups on our extension routes for the 2018-2019 school year. Commitment is 6:45 AM to 7:45 AM and 2:45-3:45 PM. Pay is $9 an hour. If you are interested please email Rebekah Klase at rklase@berkschristian.org
NEW TO THE BEAT
Each week look for a new section where the PTO will let you know what the group is up to.
The PTO (Parent/Teacher Organization) had our very first meeting on Monday, Sept. 24th. Eight parents attended and discussed the group's purpose, leadership structure, and programs. We are excited to come alongside the teachers and support them in their very important work of teaching our kids! Not everyone could make it to the meeting, but we will be sending out the minutes each month to keep everyone up to date with what is going on. If you would like to be included on those emails send Corrie Mast a message cmast@berkschristian.org and she will get you on the list.
Some of the things we would like to do will require some funding, of course. We are kicking off this effort by selling Boscov's "Friends Helping Friends" 25% OFF shopping passes for $5 each. The Coupons can be used at any Boscov's location on Tuesday, October 16th. You get to save money at Boscov's and the PTO keeps all $5!! It's a win/win! Contact Beth Bromwell bbromwell@berkschristian.org to purchase, and click here for more information about the sale: https://www.boscovs.com/wcsstore/boscovs/images/html/community/community.html
fall fun at weavers orchard
Preschool had a fun and busy morning at Weavers Orchard! We had a hayride where we saw lots of apple trees and got to pick our own apples and pumpkins. We then made apple cider like Johnny Appleseed would have made. We finished our morning by sipping on apple cider and playing in an obstacle course!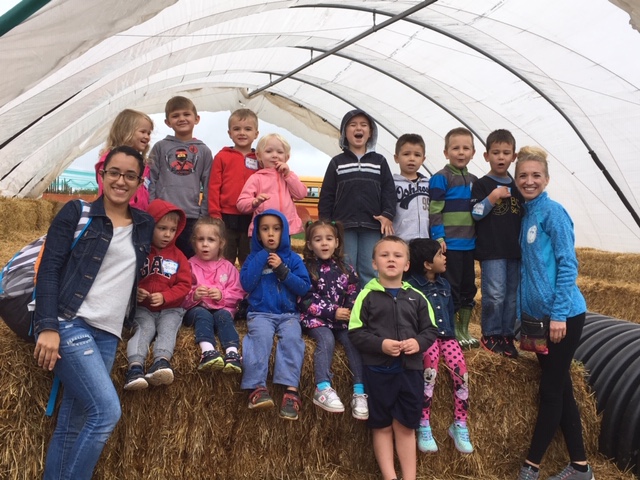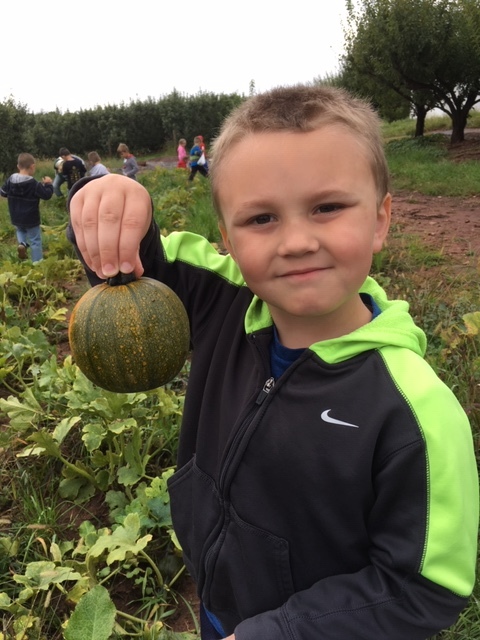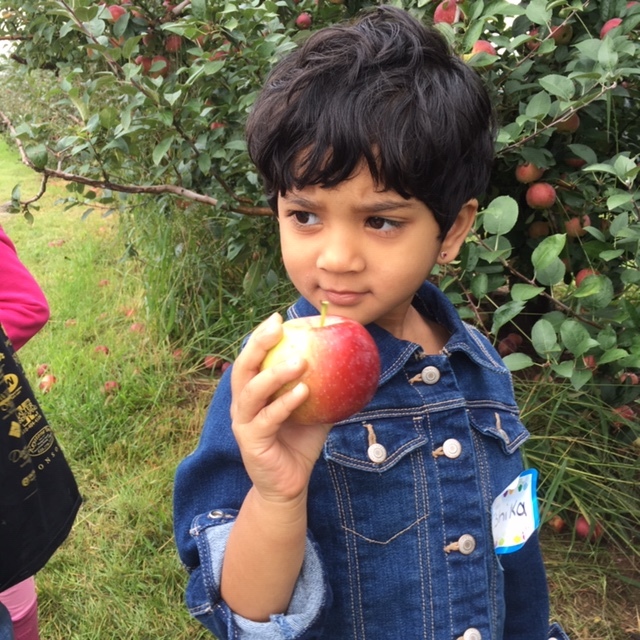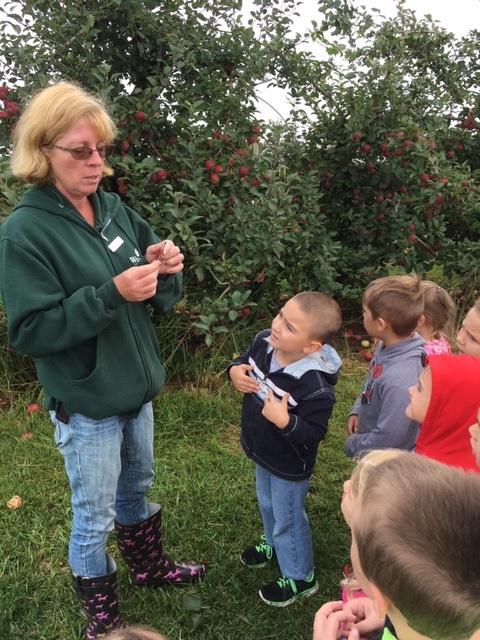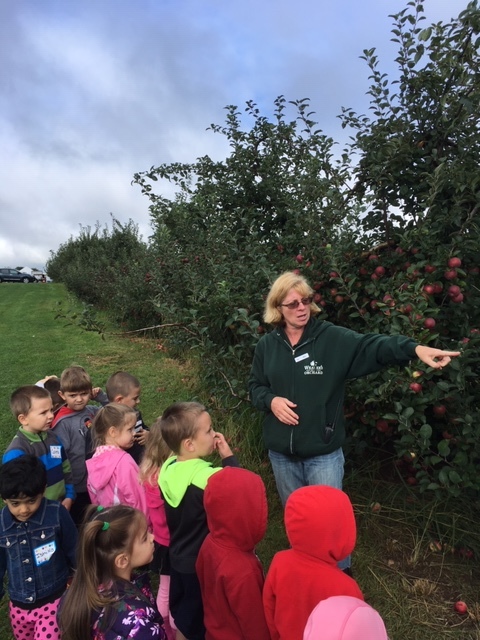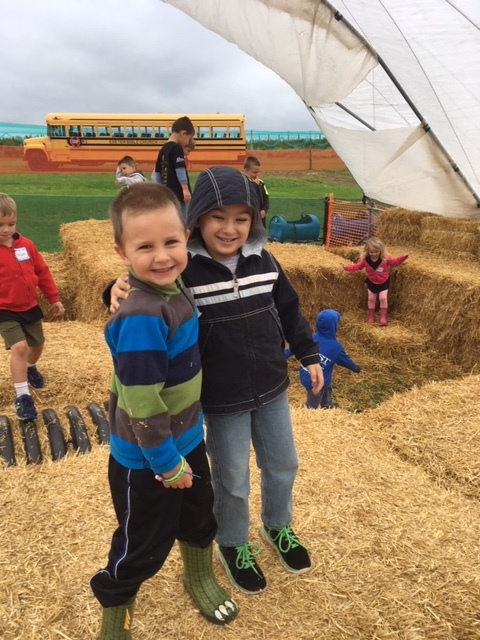 Lunch Menu for the week of 10.8.18
Monday, October 15
Elementary: Turkey w/ Gravy & Roll, Mashed Potatoes, Glazed Carrots, Applesauce
HS Hot: Meatball Sub, Steamed Broccoli, Apple Sauce
HS Cold: Chicken Wings w/ Roll, Steamed Broccoli, Apple Sauce
HS Pizza: Mickey's Cheese Pizza, Steamed Broccoli, Apple Sauce
Tuesday, October 16
Elementary: Personal Pizza, Romaine Salad, Fruit Cocktail
HS Hot: Chicken & Cheese Quesadilla w/ Salsa, Hummus w/ Veggie Dippers, Peaches
HS Cold: Sloppy Joe, Hummus w/ Veggie Dippers, Peaches
HS Pizza: BBQ chicken flatbread, Hummus w/ Veggie Dippers, Peaches
Wednesday, October 17
Elementary: Walking Taco, Corn, Mangos
HS Hot: Pasta Bar, Salad Greens, Steamed Zucchini, Fruit Salad
HS Cold: Fish Sandwich, Salad Greens, Steamed Zucchini, Fruit Salad
HS Pizza: Buffalo Chicken Pizza, Salad Greens, Steamed Zucchini, Fruit Salad
Thursday, October 18
Elementary: Chicken Patty On Bun, Green Beans, Lettuce & Tomato Slices, Strawberries
HS Hot: BBQ Rib Sandwich, Baked Beans, Pineapple
HS Cold: Grilled Cheese Sandwich, Baked Beans, Pineapple
HS Pizza: NY Style Pepperoni Or 4 Meat Pizza, Baked Beans, Pineapple
Friday, October 19
Elementary: Hot Dog On Bun, Smile Potatoes, Baked Beans Pears
HS Hot: Bacon Cheeseburger, Sweet Potato Waffle Fries, Broccoli Salad, Melon Cup
HS Cold: Chicken Parm. Sandwich, Sweet Potato Waffle Fries, Broccoli Salad, Melon Cup
HS Pizza: Stuffed crust pizza, Sweet Potato Waffle Fries, Broccoli Salad, Melon Cup