Upcoming Events
October 5: Middle School Retreat
October 8: NO SCHOOL
October 10: PSAT
October 12: All School Pep Rally & Dress Down Day (bring at least $2)
October 13: Homecoming
October 22-24: Vision and Hearing Screenings by Exeter School District nurses
October 25-26: Parent Teacher Conferences K-5 (details to come later)
October 25-26: High School Retreat

HAPPENING TOMORROW!
Our annual Middle School Retreat is Friday, October 5! Permissions went home and are due back ASAP. We are excited to have two alumni speaking into the lives of our middle school students. Students may dress down and should bring Bible, pen, packed lunch (no microwaves available), and a snack to share!
We will have our first Pep Rally of the year on Friday, October 12th to get us excited for Homecoming! Students should bring $2 for the dress down day. Students that wear maroon and gold will have the chance to win a prize!
SATURDAY, October 13
Homecoming is almost upon us and we are so excited for another great event! We need your help to make this day successful. Please sign up for an item (or two) to contribute. We will be selling food from 10:00 AM to 5:00 PM, so we will have a few breakfast options before serving lunch items. We also need help supervising the children's activities, 2-3 parents to help during the auction, and 1 parent in each of the 3 activity rooms from 10-11:30 am. See sign up button below for more details.
Games and activities for kids will start at 10:00am, followed by the 5th annual Quarter Auction at 11:30am. The varsity and middle school girls volleyball teams will play following the auction, with the day capped off by the alumni volleyball game. Be sure to buy your bidding paddle before October 5th to get the special deal (see next section or form attached to this email). You can also choose your bidding number if you buy before the 5th!
Highlighted THIS WEEK…
LIVE auction item & TEACHER EXPERIENCEs
GE® 1.6 Cu. Ft. Over-the-Range Microwave Oven
Donated by Sanatoga Corp. Appliance Specialists
1.6 cu. ft. capacity
1000 Watts (IEC-705 test procedure)

Auto and time defrost
Defrosting times and power levels are programmed automatically or manually for optimal results

Turntable On/Off
Controls turntable operation

Two-speed, 300-CFM venting system
Removes smoke, steam and odors

TEACHER EXPERIENCES
Mrs. Judd 4th grade - Bowling and ice cream for 3 students.
Mr. Smither - Donut Day, Vol 2
After a one year hiatus, the donut gauntlet returns. Do you have what it takes (no shame, an empty stomach, an irrational affinity to fried dough, etc) to down four elaborate donuts in one morning?
First, we'll stop at Benchwarmers in West Reading. Somebody forgot to tell these guys what size a donut is. I recommend the maple bacon (and if you want the full experience, have 'em throw a bit of sriracha glaze on that nearly-funnel-cake-sized monstrosity).
Next, we'll drive (and digest) to Lancaster to grab round two from Beiler's: yep, the same famous donut stand in Philly's Reading Terminal Market has a location right outside Lancaster city.
Then, we'll head over to Duck Donuts for another made-to-order donut, fresh off their magic donut assembly-line machine. You'll THINK you're full, but you'd better be WRONG. Hiding in the same area, our final stop holds one more donut creation. It's half weird, half delicious, and half of the rest of your Saturday will probably need to be spent sleeping this one off.
Click the button below to check out our full list of items and a full list of Teacher Experiences that will be available to bid on at the auction!
HURRY!! GET YOUR PADDLE BEFORE 10/5
FOR THE DISCOUNTED RATE!
Interested in bidding on some of the items in our Quarter Auction? Return your order form to the school office (with payment) to reserve a bidding paddle in advance or feel free to buy one at the door. Paddles are $10 or 3 for $25. After October 5th, paddles are $12 each.
CLASS BASKETS FOR AUCTION
We are looking for as many students as possible to help auction off their class basket. If you child will be present at the auction and would like to participate, contact Mrs. Bromwell at bbromwell@berkschristian.org
GRADES K-6
october 25-26
Each family in grades K-6 this year will be assigned scheduled times next week for the parent / teacher conferences on October 25th and 26th. Ability to switch your slot is limited, so please mark your calendar with your assigned appointment right away and reserve that time in your schedule.
Conferences for new families in grades 7-12 will be held on November 30th at 3-7 PM. If you are the parent of a student in grades 7-12 who is not new to BCS, you will not be assigned a conference unless you request one. Contact the office for questions.
Kids Kreations packets for preschool through 6th grade are on their way! Within the next two weeks, we'll be sending home an individualized packet which will show products (aprons, iPhone covers, mugs, tote bags, etc) you can purchase, all designed with your child's artwork. Order for yourself or as Christmas gifts! As a bonus, BCS benefits with every purchase. Orders will be due back Monday, November 5th, if you're paying with cash/check, or Friday, November 9th if you're doing your order online.
Our Varsity Volleyball team finished in 3rd place at the BCS Volleyball Invitational. After a competitive morning of group play from all four teams, Berks lost in an intense playoff match with Coventry. Congrats to Saniya and Leah for making the All-Tournament team!
Middle school & VARSITY Volleyball Games
Friday, October 5
VARSITY 5:00 PM HOME vs. Linville Hill Christian
Monday, October 8
MS 4:00 PM Away vs. Manheim Christian School
Tuesday, October 9
VARSITY 6:00 PM Away vs. Conestoga Christian School
Friday, October 12
VARSITY 6:00 PM HOME vs. Lititz Christian School
Saturday, October 13 - HOMECOMING!!
MS 3:15 PM HOME vs. Salem Christian School
VARSITY 4:30 PM HOME vs. Salem Christian School
All game and practice schedules are available on the CCAC website.
Please use this as your guide each week.
Volleyball Game Spectators
Students staying after school for a volleyball game must go to the cafeteria to do homework until the game starts. Before the game begins, students should pay their $2 admission fee and sit on the bleachers to cheer. Parents: please plan on picking up your student approximately one hour after the game's start time.
If you'd like to sign to help serve concessions throughout the season, please sign up here.
Basketball season is coming soon! Interested students / parents must sign and return the form by Tuesday, October 16th. More information on basketball season coming next week.
varsity basketball OPEN GYMS
Our senior guys will be leading our (non-mandatory) open gyms while we continue the search for a head coach. Meanwhile, make sure to sign up (see above).
Fri, 10/5: 3:00-4:00 PM

Tue, 10/9: 4:00-5:30 PM

Fri, 10/12: 4:00-5:15 PM
Open Positions AT BCS
Substitute Teachers
Berks Christian School is seeking substitute teachers for the 2018-2019 school year.
The job requires-
1. Flexible schedule
2. Bachelors degree (it does not have to be in education)
3. PA Criminal Background Clearance
4. PA Child Abuse Clearance
5. FBI Fingerprinting
If you are interested in being added to our sub list, please send your resume and written Christian testimony to Rebekah Klase at rklase@berkschristian.org.
Van Driver
Berks Christian School is seeking a part-time van driver for morning and afternoon pickups on our extension routes for the 2018-2019 school year. Commitment is 6:45 AM to 7:45 AM and 2:45-3:45 PM. Pay is $9 an hour. If you are interested please email Rebekah Klase at rklase@berkschristian.org.


recess lunch parents needed
Our elementary lunch periods depend on parent volunteers. Teachers get a break over lunchtime, sometimes their only break of the day! To supervise lunch periods, we rely on parents who wipe down the tables before lunch begins, serve food, help students clean up, and then supervise the afternoon recess.
If you have free time in your week, will you consider being a Lunch/Recess Parent this year? Current clearances are required, and we are happy to help you acquire them. If you have a child younger than school age, you are welcome to bring him or her along. Commitment can be once a week, or more often! We need at least two parents per day, so pick a friend and sign up together! If you are interested, please email Rebekah Klase at rklase@berkschristian.org.
As announced at Back to School Night, a parent has put together a "BCS Teacher Wish List" so that the school community can bless our hardworking teachers! The teachers sent in their wish list items and they were added to a Wish List on Amazon. Purchasing the item is simple:
Click this link to see the Wish List: http://a.co/ax7F0jQ

Choose and item (or two!) and put them in your cart.

Check out as normal and your item will be shipped directly to the school – easy peasy!
Some of the items on the list are just ideas – things you can keep in mind as you are out and about, or maybe even donate if you have a lightly used item sitting around at home.
Let's show the teachers how much we appreciate them by supporting them in this way!
NEW TO THE BEAT
Each week look for a new section where the PTO will let you know what the group is up to.
The PTO (Parent/Teacher Organization) had our very first meeting on Monday, Sept. 24th. Eight parents attended and discussed the group's purpose, leadership structure, and programs. We are excited to come alongside the teachers and support them in their very important work of teaching our kids! Not everyone could make it to the meeting, but we will be sending out the minutes each month to keep everyone up to date with what is going on. If you would like to be included on those emails send Corrie Mast a message cmast@berkschristian.org and she will get you on the list.
Some of the things we would like to do will require some funding, of course. We are kicking off this effort by selling Boscov's "Friends Helping Friends" 25% OFF shopping passes for $5 each. The Coupons can be used at any Boscov's location on Tuesday, October 16th. You get to save money at Boscov's and the PTO keeps all $5!! It's a win/win! Contact Beth Bromwell bbromwell@berkschristian.org to purchase, and click here for more information about the sale: https://www.boscovs.com/wcsstore/boscovs/images/html/community/community.html
6TH GRADE ARCHAEOLOGY, CAN YOU DIG IT?
Recently, 6th grade heard from a local trained archaeologist about the profession of archaeology, how to work at an excavation site, and about finding and preserving ancient artifacts. The 6th graders even got to touch pottery from circa 10th century BC!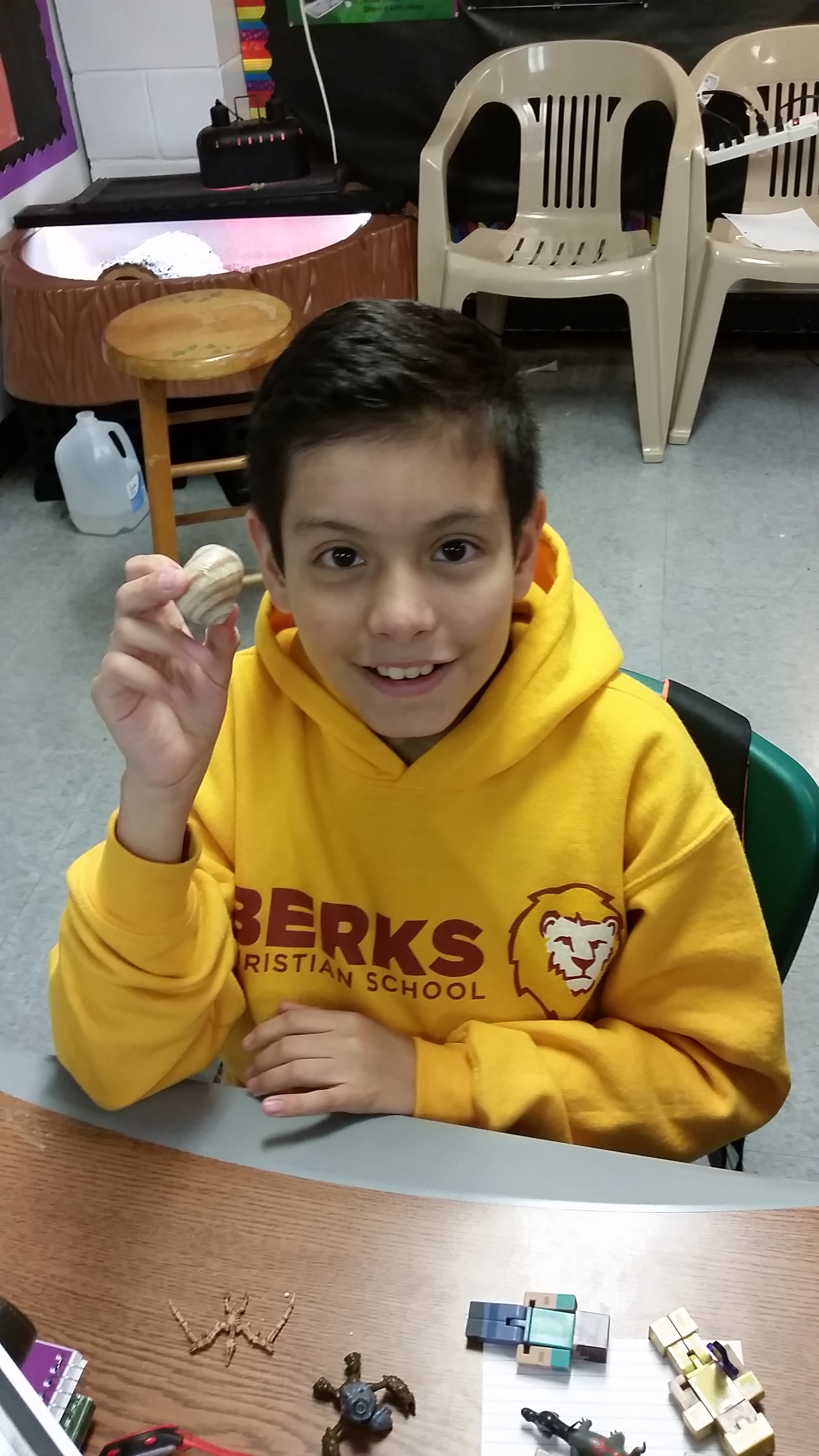 GOOD APPLES IN 1ST GRADE
Last week, first grade learned all about apples and Johnny Appleseed. They made applesauce, apple muffins, wrote about apple buddies, and to end off the week,painted apple t- shirts.
Lunch Menu for the week of 10.8.18
Monday, October 8
NO SCHOOL
Tuesday, October 9
Elementary: Stuffed crust pizza, salad greens, roasted squash, strawberries
HS Hot: Mac & cheese w/choice of philly steak, buffalo chicken or cheeseburger, stewed tomatoes, spinach salad, pears
HS Cold: Pizza sticks w/ sauce, stewed tomatoes, spinach salad, pears
HS Pizza: BBQ chicken flatbread, stewed tomatoes, spinach salad, pears
Wednesday, October 10
Elementary: French toast w/ham, hash browns, veggie dippers, grapes
HS Hot: Walking taco, lettuce & tomato slices. fiesta beans, corn, mangos
HS Cold: Egg, cheese, sausage sandwich, lettuce & tomato slices. fiesta beans, corn, mangos
HS Pizza: Buffalo chicken pizza, lettuce & tomato slices. fiesta beans, corn, mangos
Thursday, October 11
Elementary: Grilled cheese panini, tomato soup w/croutons, zucchini, fruit salad
HS Hot: Burger bar, sidewinder fries, cole slaw, grapes
HS Cold: Hot roast beef & cheddar, sidewinder fries, cole slaw, grapes
HS Pizza: Cheese pizza, sidewinder fries, cole slaw, grapes
Friday, October 12
Elementary: Cheeseburger on bun, WG cookie, baked beans, lettuce & tomato slices, peaches
HS Hot: Homemade Chili w/cheese & twisted breadstick, steamed sugar snap peas, fruit cocktail
HS Cold: Buffalo chicken sticks w/roll, steamed sugar snap peas, fruit cocktail
HS Pizza: Stuffed crust pizza, steamed sugar snap peas, fruit cocktail
UPCOMING COMMUNITY CHURCH Event
Father's House Ministry
Invites you to come join us!
Community Fall Fest 2018
When: October 6th
Where: Essick Park (700 block of Church St.)
Time: 12 PM - 3 PM
Free Food & Refreshments

Family Games

Face Painting

Live Entertainment
And so much more! Come and join the fun!