Upcoming Events
April 7-8: Behold the Lamb (see details below!)
April 10-12: TerraNova Testing
April 13-18: Easter Break
April 19: Snow Make-Up Day
April 21: Compassion Dress Down Day (Bring at least $2)
April 25: National Honor Society Induction, 7:00 pm
May 2: Serve-a-Thon
May 9: Elementary Musical
May 12: Spring Concert
May 23: Celebrate BCS Night
Athletics
Track Schedule
Friday, 3/31: Varsity and Middle School practice, 3:00 - 4:30 pm
Monday, 4/3: Varsity and Middle School practice, 3:00 - 4:30 pm
Tuesday, 4/4: Varsity and Middle School practice, 3:00 - 4:30 pm
Thursday, 4/6: Varsity and Middle School practice, 3:00 - 4:30 pm
Friday, 4/7: Varsity Track Meet at Tulpehocken Jr/Sr High School, 4:00
Boost the Boosters
Berks Christian Athletic Boosters is partnering with the Exeter Youth Soccer Association for the upcoming spring soccer season (Tuesdays, Thursdays, and Saturdays from mid-April through June). Exeter Youth Soccer Association uses the BCS field for these events and boosters will be selling concessions here at BCS during all youth soccer events. We are looking for an individual who would be willing to head up concession sales at these events. We will also need plenty of additional volunteers to help out. All proceeds will go towards the Athletic Program. Please contact Athletic Director Kody Godsey (kgodsey@berkschristian.org) if you are willing to lead in this area.
Varsity Girls Basketball Awards
Just announced this week are the varsity girls basketball awards for the season. Congratulations, ladies!
Mighty In Spirit - Ally
Hustle - Esther
Most Improved - Yejin
MVP - Nicole
Event Details
Behold the Lamb
Don't miss this special Easter community concert, sponsored by Berks Christian School. Fifty community members will be joining our high school choir for this special event held at First City Parish of Reading City Church (611 Washington Street, Reading). Concert is at 6:30 pm on Saturday, April 8th and is free. Freewill offering will be taken to support Hope Rescue Mission. For more info, please visit beholdthelamb2017.org.
Please like and share our facebook events here (for the Friday night Lancaster concert) and here (for the Saturday evening concert in Reading).
Tips for Successful Testing
Our TerraNova standardized testing is coming up, April 10 - 12. We've got a few tips to help you do your best on these.
1. Get a good night's rest the night before and each night during the testing
2. Eat a nutritious breakfast and lunch
3. Arrive to school on time to be ready for the start of testing
National Honor Society Induction
On April 25th, we'll be inducting five new members in the Berks Christian School chapter of National Honor Society. Please join us for this special evening. The ceremony will take place in the BCS Auditorium at 7:00 pm.
Serve-a-Thon 2017
Paperwork Needed
If you haven't turned in your white permission form and/or your pink parent agreement form, we need those in the office right away.
Progress Toward Our Goal
We've got a good start toward our goal of sending out 3,000 sponsorship letters. So far 2,051 letters have been collected and mailed. We reached our first two goal benchmarks, and have earned a dress down day and an outdoor lunch for the whole school. Our next goal is to hit 2,200 letters to earn ice cream for the whole school.
Outdoor lunch for the whole school will be next Wednesday, April 5th
Dress-down day for the whole school will be next Thursday, April 6th
Please contact Mrs Bromwell if you need more letters! And don't forget that you can submit sponsorship requests via email by using this auto-email webpage we've set up. There is plenty of time to be in the running for our three big prizes, awarded to the three families who submit the most letters. Prizes are $300 for first place, $200 for second place, and $100 for third place. You must submit at least 50 letters in order to be eligible for these prizes.
News and Updates
Exciting Changes to our Lunch Menu!
Starting next week, your middle school / high school lunch menu will offer three choices each day. Choose the hot meal option, the cold meal option, or the pizza option. Whichever you pick will come with all the sides. If you're ordering online, you will have three options to choose from. If you order in homeroom, make sure to tell your teacher which meal you'd like to have. At this point, we're only offering these selections to 6th through 12th grades. Elementary will continue to have one selection each day.
BCS Phone System: Back in Business!
Thanks for your patience with our phone glitches last week. Phone service and message retrieval have been restored!
Middle School Tutoring
One of our high school students offers tutoring every Monday from 3:00 - 4:45 for any middle school students who would like help with homework, studying, or organization. Any Monday that a 6th-8th grader that would like to stay please email attendance@berkschristian.org.
Jump In and Join Us
Re-Enrollment
Remember to re-enroll by March 31st (that's TOMORROW) if you want to pay the lowest re-enrollment price. Starting April 1st, prices will go up for re-enrollment. Also remember that all returning families (that's you!) who are interested in financial aid must apply for aid by April 30th. You can apply for aid here.
Subs are Needed
We are looking to add some substitute teachers to our list. We are looking for people with the following requirements:
1. Flexible schedule
2. Bachelors degree (it does not have to be in education)
3. PA Criminal Background Clearance
4. PA Child Abuse Clearance
5. FBI Fingerprinting
If you are or anyone you know are interested in being added to our sub list, please contact Miss Klase at rklase@berkschristian.org.
Volunteers Needed for Data Entry
We need a volunteer or two to help with some data entry and data maintenance for our new donor database. This database will help us track and manage our partners better, but the initial set-up will be time-consuming and we'd love some willing hands to help out. It's not glamorous, but it would be very helpful and can be done remotely from your home. Interested people should contact Mr Warner by emailing pwarner@berkschristian.org.
Around Campus
Lunch Menu for Coming Week
Friday, 3/31
Elementary: French toast stix w ham, hash brown starz, grapes
High School: Cheese ravioli, breadstick, steamed broccoli, salad greens w dressing, pears
Monday, 4/3
Elementary: Pasta w meat sauce, breadstick, cauliflower, salad w dressing, fresh fruit
HS Hot Meal: Cheeseburger, glazed carrots, pasta salad, apple crisp
HS Cold Meal: Chicken tender wrap, glazed carrots, pasta salad, apple crisp
HS Pizza Meal: Four meat pizza, glazed carrots, pasta salad, apple crisp
Tuesday, 4/4
Elementary: Turkey hoagie, three bean salad, mandarin oranges, fresh cookie
HS Hot Meal: McMuffin, hash browns, three bean salad, mandarin oranges
HS Cold Meal: Turkey & cheese on ciabatta, hash browns, three bean salad, mandarin oranges
HS Pizza Meal: French bread pizza, hash browns, three bean salad, mandarin oranges
Wednesday, 4/5
Elementary: Salisbury steak w gravy, roll, mashed potatoes, steamed broccoli, peach crisp
HS Hot Meal: Hot roast beef & cheddar, baked red skin potatoes, salad w dressing, mangoes
HS Cold Meal: Tuna salad wrap, baked red skin potatoes, salad w dressing, mangoes
HS Pizza Meal: Buffalo chicken pizza, baked red skin potatoes, salad w dressing, mangoes
Thursday, 4/6
Fundraiser Pizza Lunch - Watch for Order Form
Preschool Happenings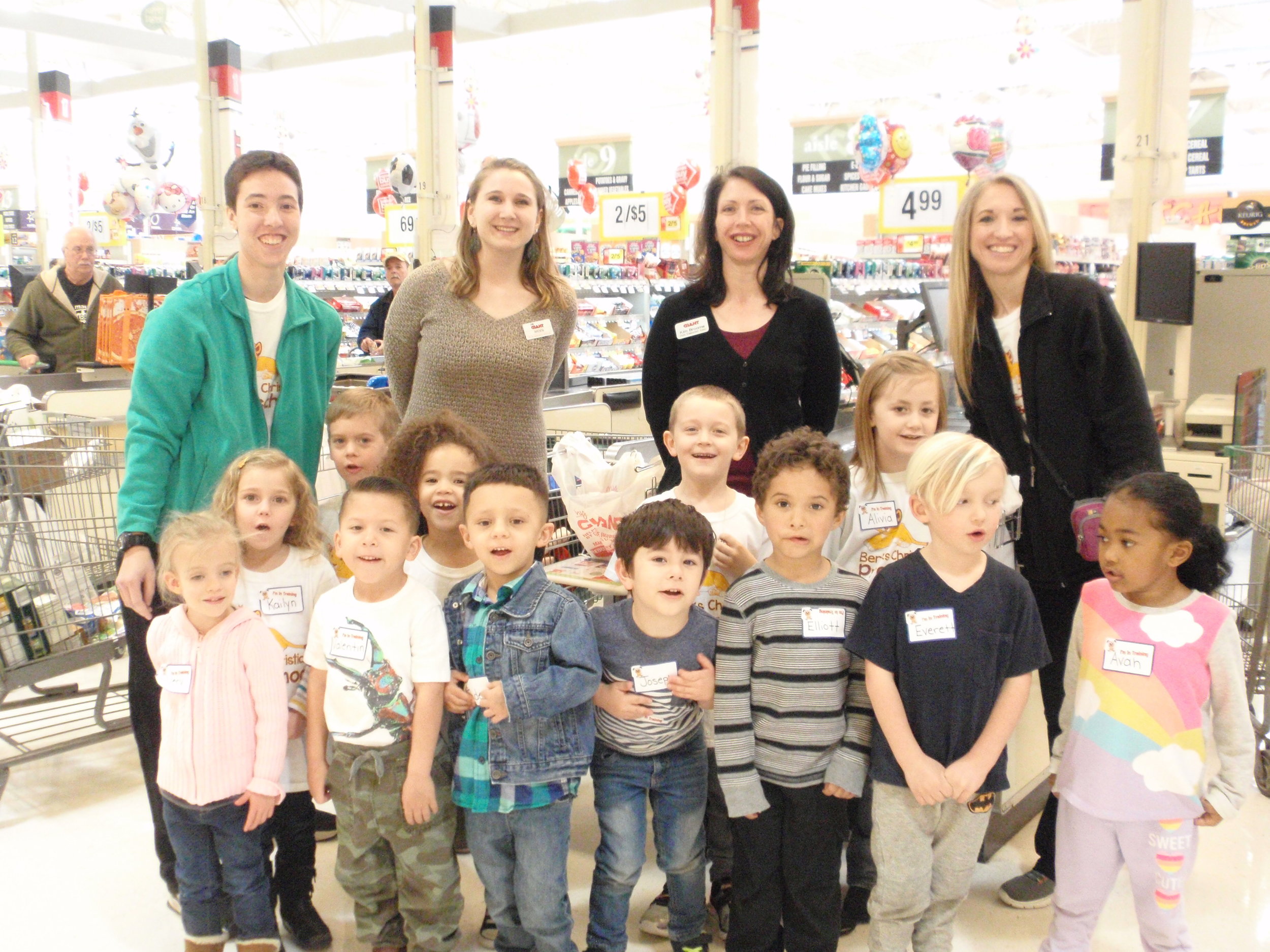 In the month of March, Preschool discovered how to keep our bodies healthy and strong by eating healthy foods from the My Food Plate. We then ended our month by going on a fun field trip to GIANT Food Store. We learned a lot about where they healthy food is located in the store and even got to go into the dairy refrigerator. Boy, was that cold!! We also had a super fun time riding the bus!!