Upcoming Events
Tomorrow, October 13: Compassion Dress Down Day (bring at least $2)
October 19-20: No School
October 25: Last day of Quarter One
October 27: Middle School Spiritual Life Retreat
November 6-7: Parent/Teacher Conferences
November 9: Winter Athletic Meeting
November 22: Grandparents Day
Event Details
Fall Parent/Teacher Conferences
Each elementary family and family new to BCS this year will be assigned scheduled times for parent / teacher conferences on November 6th and 7th. You will receive your assigned times next week. Ability to switch your slot is limited, so please mark your calendar with your assigned appointment right away and reserve time in your schedule. If you are the parent of a student in grades 6 - 12 who is not new to BCS, you will not be assigned a conference unless you request one. Contact Mrs Judd (bjudd@berkschristian.org) in the office to request to be added to the schedule.
Athletics
Winter Sports: Seasonal Athletic Meeting
Parents and students playing winter sports are required to attend the Athletic Meeting on November 9th at 7:00 pm. The meeting will begin with a presentation from the Athletic Director, and will be followed up by individual team meetings led by each coach.
Athletic Practice and Game Schedule
All game and practice schedules are available on the CCAC website. It is always kept up-to-date, so please use it as your guide to our official sports schedule.
Friday, 10/13:
Middle school volleyball practice, 3:00 - 4:30
Varsity volleyball away game, 6:00
Monday, 10/16:
Middle school volleyball home game, 4:00
Varsity volleyball practice: 5:00 - 6:30
Tuesday, 10/17:
Middle school volleyball away game, 4:00 (depart at 3:00)
Varsity volleyball home game, 6:00
Wednesday, 10/18:
Varsity volleyball practice, 3:00 - 4:15
Thursday, 10/19:
Varsity volleyball away game, 6:00 (depart at 4:15)
Open Gym Dates for Varsity Basketball:
Friday, October 13, 4:30 - 6:30
Tuesday, October 17, 3:00 - 5:00
Congratulations to the Cross Country Team
With a first season successfully under their belts, the BCS cross country team is happy with the kickoff of this new program. We are always excited to grow our programming, and the success of cross county this year was one more way we are enjoying growth this year. Congrats, team!
News and Updates
Grandparents Day
We are excited for our annual Grandparents Day coming up on November 22nd. We'll be sending invitations directly to grandparents soon, so please make sure we have the updated contact information on your child's grandparents. This is especially important if you're a new family, or if grandparents have recently moved.
Kids Kreations
Your child recently completed some artwork at BCS, which has been sent to Kids Kreations, a fundraising company that develops products with your child's work. In a few weeks, you'll be receiving a personalized packet with your child's artwork which will show products (aprons, iphone covers, mugs, tote bags, etc) you can purchase. Order products for yourself or as Christmas gifts! As a bonus, BCS benefits with every purchase.
Needed at BCS: You!
Partnership with families is one of our hallmarks at BCS and we love when parents join us in volunteer roles. This year we are looking a little bit more broadly as we consider how you (parents, grandparents, and friends of BCS) can partner with us. Picture yourself in the following roles. Then contact the office to let us know which one might fit you!
After School Guidance
Many of our students, in all grades, could benefit from extra help in working through homework or help with new academic content. You don't need to be an expert in algebra or grammar. Just a caring adult who wants to give some time to mentoring and guiding a student.
Handyman Tasks
Love tools? We need a handyman or two to volunteer a few hours a month to install bulletin boards, fix desks, or accomplish other odd tasks. Work can be done on weekends or after school times.
Facilitate a Flex Course
Flex courses can be anything from baking to chess to classic novel read-alouds to sewing to creative writing. You don't need background in education, just a love of a particular topic and a willingness to instill that love in students. Each flex course meets once per week for a quarter, from 2:15 - 2:45.
Around Campus
Reminder: Polo shirts are not optional
Please remember that every student must wear a BCS polo shirt (or a white dress shirt) every single day. BCS sweatshirts, solid color sweatshirts, or other BCS spirit wear are only permitted to be worn over top of the BCS polo. Students not wearing a BCS polo will be written up.
BCS Beat Book Blurb
Here's a book recommendation from our library intern, senior Holly.
The Book of Lost Tales is a collection of stories written by J.R.R. Tolkien from the perspective of Elves told to a man. The short stories were gathered by Christopher Tolkien and put into the form of a novel. He then added commentary explaining his father's initial ideas and how they were all molded to fit together to form the world where The Hobbit and The Lord of the Rings takes place. The Book of Lost Tales is a great resource to those who are interested in the background and process of forming Tolkien's Middle Earth.
Secondary Student Library Book Checkout
Middle School & High School! Allow me to introduce you to an ancient technology known as "books." These word-filled objects can supply you with knowledge and/or stave off the study hall blues. To add one to your temporary personal inventory (three week loan period), simply find Mr. Smither and tell him you need to check one out. Easy. Happy reading!
Apple Week in First Grade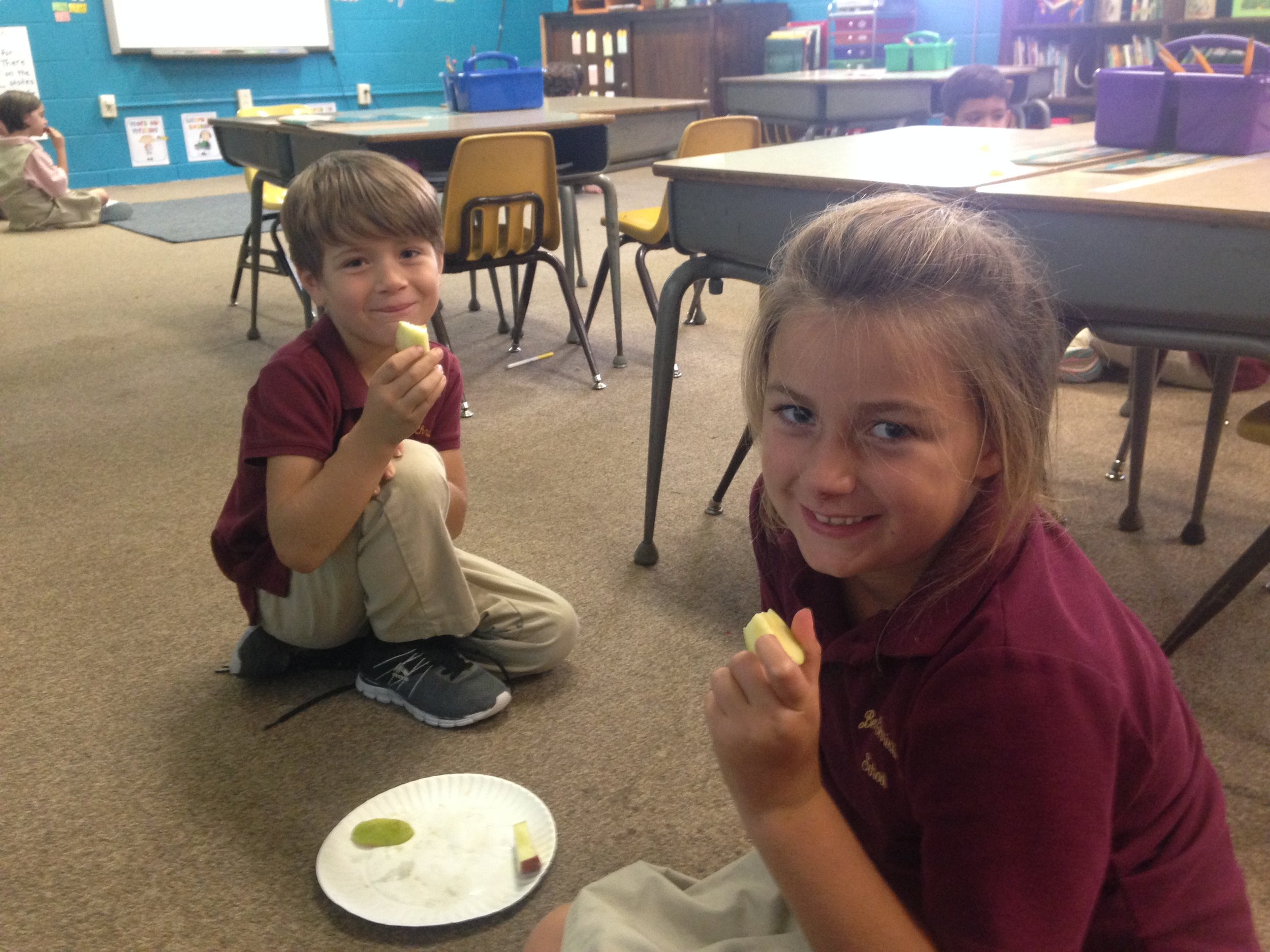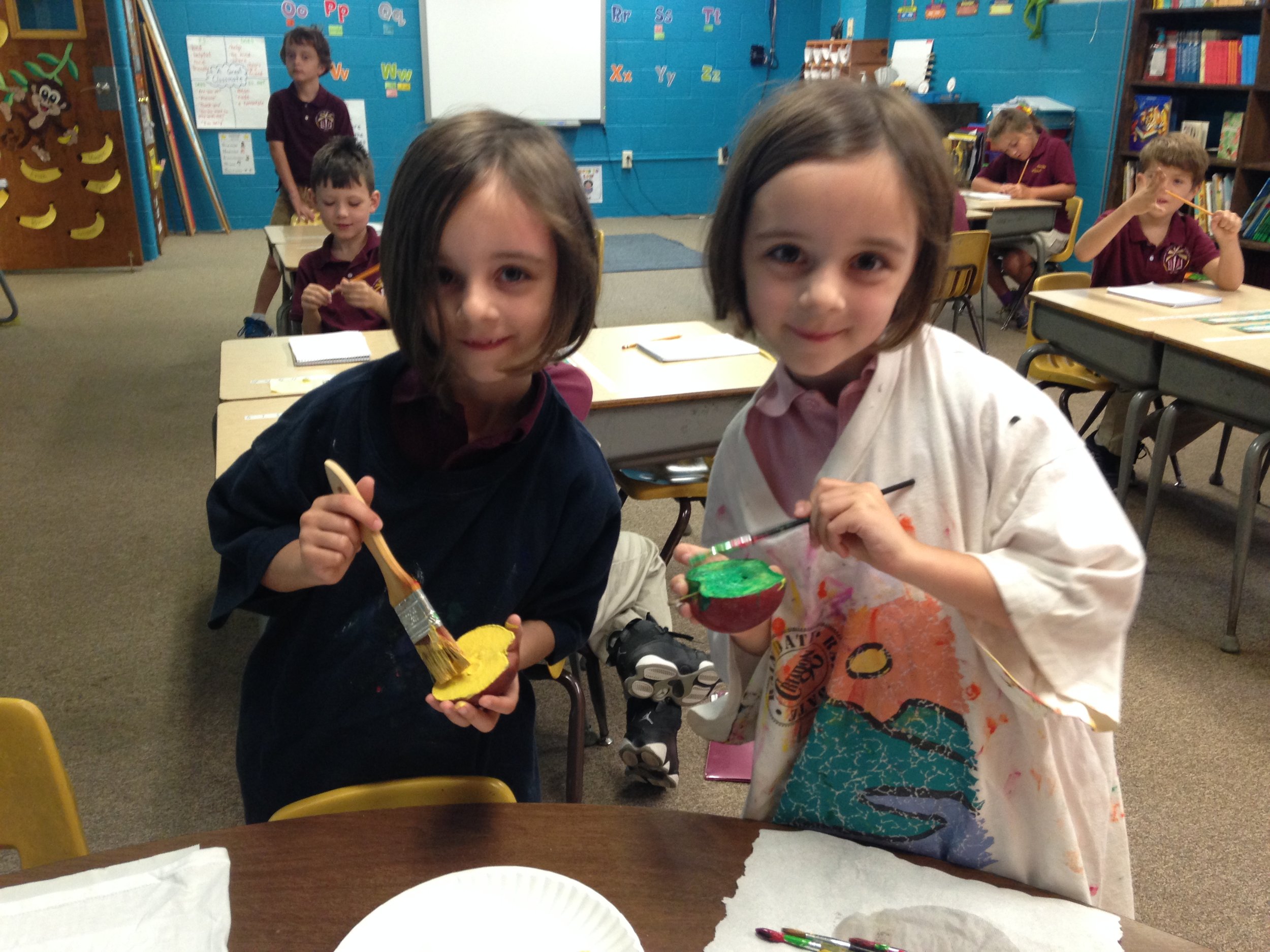 Last week first grade had an apple week while learning about Johnny Appleseed. They tasted different apples and created a bar graph of their favorite, built apple boats, made apple volcanoes, made applesauce and tried stacking as many apples as they could after reading "Ten Apples Up On Top." They ended the week by wearing their hand painted apple shirts.
Menu for this week
Friday, October 13
Elementary: Hot ham and cheese on pretzel roll, carrot stix w dip, strawberries
HS Hot: Shepherd's Pie w roll, corn and peas, red pepper strips w dip, pineapple
HS Cold: Pretzel dog, corn and peas, red pepper strips w dip, pineapple
HS Pizza: Cheese pizza slice, corn and peas, red pepper strips w dip, pineapple
Monday, October 16
Elementary: Cheeseburger, baked beans, peach slices, cookie
HS Hot: Chicken fajita wrap w peppers and onions, guacamole w chips, salsa, melon chunks
HS Cold: Cheeseburger, guacamole w chips, salsa, melon chunks
HS Pizza: Stuffed crust pizza, guacamole w chips, salsa, melon chunks
Tuesday, October 17
Elementary: Grilled cheese panini w tomato soup, cucumber salad, goldfish crackers, fruit salad
HS Hot: Salisbury steak w roll, mashed potatoes, broccoli, peaches
HS Cold: Chicken filet sandwich, mashed potatoes, broccoli, peaches
HS Pizza: French bread pizza, mashed potatoes, broccoli, peaches
Wednesday, October 18
Elementary: Baked chicken stix w roll, sweet potato fries, broccoli w dip, frozen fruit
HS Hot: Eggs w biscuit and sausage, donut, hash browns, grapes
HS Cold: Hot roast beef and cheddar, donut, hash browns, grapes
HS Pizza: Buffalo chicken pizza, donut, hash browns, grapes