Upcoming Events
This Friday and Saturday, December 9 and 10: Cougar Classic Basketball Tournament at CCS
December 13: Christmas Concert
December 16: Dress Down Day to support Compassion International
December 16: Fundraiser lunch to benefit junior class (Order form attached to Beat email)
December 22 - January 4: Christmas Break
January 5: First day back to school
Athletics
Basketball Practice and Game Schedule for this week
Thursday, December 8th
Middle School Girls Away Game: West Fallowfield Christian at 4:00
Middle School Boys Away Game: West Fallowfield Christian at 5:00
Varsity Girls Practice: 5:00 - 7:00
Varsity Boys Practice: 3:00 - 5:00
Friday, December 9th
Middle School Girls Practice: 3:00 - 5:00
Middle School Boys Practice: 5:00 - 7:00
Varsity Girls Away Game: Cougar Classic at 4:00
Varsity Boys Away Game: Cougar Classic at 5:30
Saturday, December 10th
Varsity Girls Away Game: Cougar Classic at TBD
Varsity Boys Away Game: Cougar Classic at TBD
Monday, December 12th
Middle School Girls: OFF
Middle School Boys Home Game: High Point Baptist Academy at 4:00
Varsity Girls Practice: 5:00 - 7:00
Varsity Boys Practice: 7:00 - 9:00
Tuesday, December 13th
No practices because of Christmas Concert
Thursday, December 15th
Middle School Girls Away Game: Hinkletown Mennonite at 4:00
Middle School Boys A Away Game: Hinkletown Mennonite at 5:00
Middle School Boys B Away Game: Hinkletown Mennonite at 6:00
Varsity Girls Home Game: Lancaster Mennonite School- Hershey Campus at 6:00
Varsity Boys Home Game: Lancaster Mennonite School- Hershey Campus at 7:30
Event Details
Christmas Concert: Reminders for Next Tuesday
Report Times
Grades K - 3: Report at 6:30 to your classroom
Grades 4 and 5: Report at 6:30 to the library
Middle School and High School Choirs: Report at 6:30 PM to the cafeteria
Middle School and High School Bands: Report at 6:15 to the sanctuary
Dress Code
Grades K - 5: Dressy Christmas outfits
Middle School / High School Gentlemen dress code (band and choir): Black dress pants, black dress shoes, black socks, long-sleeve white dress shirt, tie (solid color or small print)
Middle School / High School Ladies dress code (band and choir): Solid white dress blouse (no sweaters or anything low cut), solid black skirt (knee length or longer, full length is preferred), black dress shoes, neutral colored nylons
Mr Warner's Common Sense Reminders for Midterms
It's that special time of year: Christmas trees, carols, and cookies can mean only one thing: it's time for midterms! There are lots of great resources on the internet, so get started with this list, and then try a search for some more detailed help.
1. Most important tip: Don't cram. It doesn't work. No really, it doesn't. Your brain wasn't designed that way. Break up your studying into small, manageable chunks over many days.
Hint: you should get started now.
Bonus: give yourself mini-breaks of 5-10 minutes in between chunks of work.
2. Never just read. Reading your notes and textbook are time consuming, and research shows us that it doesn't do a lot of good to increase your skill.
3. Don't be deceived by recognition. Many of us study by looking at the review sheet and say to ourselves, "I know that." That's what we call recognition. It won't help you on a test. Instead, aim for recall – being able to talk about it or explaining it without any words on the page prompting you. To get to recall, you need numerous, spread out sessions of re-learning (aka studying well.)
4. So how can you deepen your memory to get to that all-important recall? Engage as many of your senses as you can. Read the information, say the information, listen to the information, even take a walk while talking about the information. Engage as many mental processes as you can. Draw a picture of it, write it as a poem, or try write a song.
5. The best study tool? Teach the information to someone else.
6. The best memory tool? Find a way to connect the information to something you care about or something personal, even if it is a silly connection. Your brain will automatically want to remember it.
And now, four more practical tips:
7. Set up a desk at home. Research shows that if you study in an environment closer to the test conditions, you'll do better on your test. So try the kitchen table or a desk instead of your bed or a couch.
8. Sleep, Sleep, Sleep, Sleep. Sleep deprivation is a sure way to lower your grade. When you've put in the smart preparation of breaking up your studies, call it a night and get some shuteye.
9. Related: leave your phone in the kitchen. Get better sleep by not looking at screens the hour before you go to bed. Also related: leave your phone in the kitchen, so your phone doesn't keep you up until 1 AM.
10. Get some exercise and eat healthy food. Yes, these two things make a huge difference.
You can do this, my dear students. Finish the semester well. In all things, to the glory of God.
News and Updates
New Discipline Policy
The video above from Mr Warner gives some important information about our newly structured discipline policy. Please take six minutes to watch it. For additional details, please read his blog post here.
Christmas Candy Grams
Our annual Senior Class Candy Grams are now available! Students, parents, or other family members can send a candy gram to a student, which will include a custom message with a set of candy canes. Cost is $1.50 for 3 peppermint candy canes and $2 for 3 flavored candy canes. Orders are due Thursday, December 15th and will be delivered Monday, December 19th. Order forms are sent home with students and were attached to the Beat email this week.
Congratulations to District Flutist, Holly!
This past Saturday, eleventh grader Holly auditioned to be in the PMEA (Pennsylvania Music Educators Assoc.) District 10 Band. District 10 is a seven-county area in this part of the state.
Ninety-seven flute players from this seven-county area auditioned for 16 flute positions. Holly's outstanding musical ability was evident on Saturday. As you might already have guessed, Holly was chosen to be part of District Band this year. Needless to say, Holly and her family are quite ecstatic, to say the least. Holly has been working toward this during at least eight years of lessons.
IMPORTANT: Health Reports from District Nurse
All students in grades K through 12 were screened for vision and hearing in the days prior to Thanksgiving break. Today health reports are going home that outline your child's results. If your child failed a screening, a form is included for you to take along to the doctor when you go for followup evaluation. Please be sure to ask your child for this paperwork today.
Cast List Posted for The Final Adventure
The King's Players will be performing Sherlock Holmes: The Final Adventure this spring. Mark your calendars for the performance dates, March 16 - 18. We are thrilled to announce the cast list and congratulate those who were given roles in this exciting drama. Many thanks to all the students who tried out.
Sherlock Holmes: Drew
Doctor Watson: Anaiya
Professor Moriarty: Trent
King of Bohemia: Bohdan
Irene Adler: Holly
James Larrabee: TJ
Algernon Larrabee: Brayden
Sid Prince: Sydney
Ensemble Member: Ally
Ensemble Member: Isaiah S.
Ensemble Member: Esther
Minister: Mr. Godsey
Jump In and Join Us
One More Host Family Needed!
Three families have come on board to host students starting in January. We need one more host home for a 15 year old boy from Japan. He is excited for this short-term adventure in the United States and enjoys tennis and math. Could you be his family for ten weeks? Please contact Rebekah Klase by emailing rklase@berkschristian.org if you can make room in your home for a student this winter. You will earn a stipend of $1,000 and will make memories that will last your family a lifetime.
Bless our teachers this Christmas?
Parents of BCS students received a letter this past week from the school board about donating toward a Christmas gift for our faculty. If you feel led to contribute, please send your gift to the school office (indicate "Teacher Christmas Gift" on the gift) or you may choose to give in the offering taken at the Christmas Concert.
Around Campus
Lunch Menu for the Week
Friday, 12/9
Elementary: Pancakes with sausage, hash browns, raisins
High School: Mini corn dogs, baked beans, sweet potato tots, strawberries
Monday, 12/12
Elementary: Chicken patty on roll, hummus with carrots & celery, peach slices
High School: Meatball sandwich, steamed cauliflower, carrots sticks w dip, peaches
Tuesday, 12/13
Elementary: Hot dog on bun, curly fries, baked beans, watermelon
High School: Pierogies w sausage, steamed snap peas, mandarin oranges
Wednesday, 12/14
Elementary: Fish sticks w roll, pasta salad, carrots, cinnamon spiced apple slices
High School: Meat sauce w pasta, breadstick, roasted zucchini, romaine salad w dressing, pears
Thursday, 12/15
Elementary: Mini pierogies, spinach salad, mixed veggies, fruit cocktail
High School: Fish sliders, sweet potato waffle fries, romaine w tomatoes, peppers, apple slices
Visit from Exeter Township Police Sergeant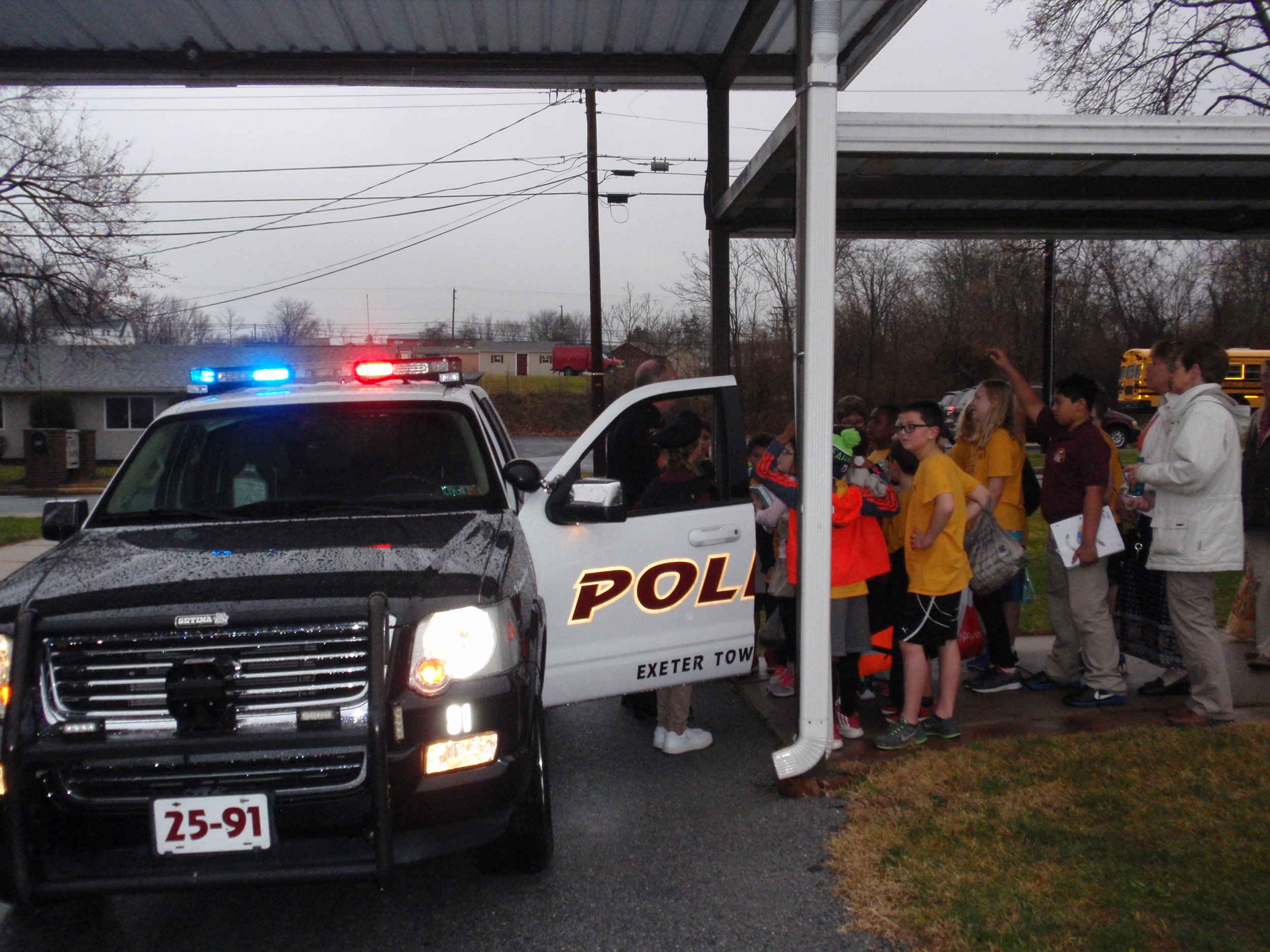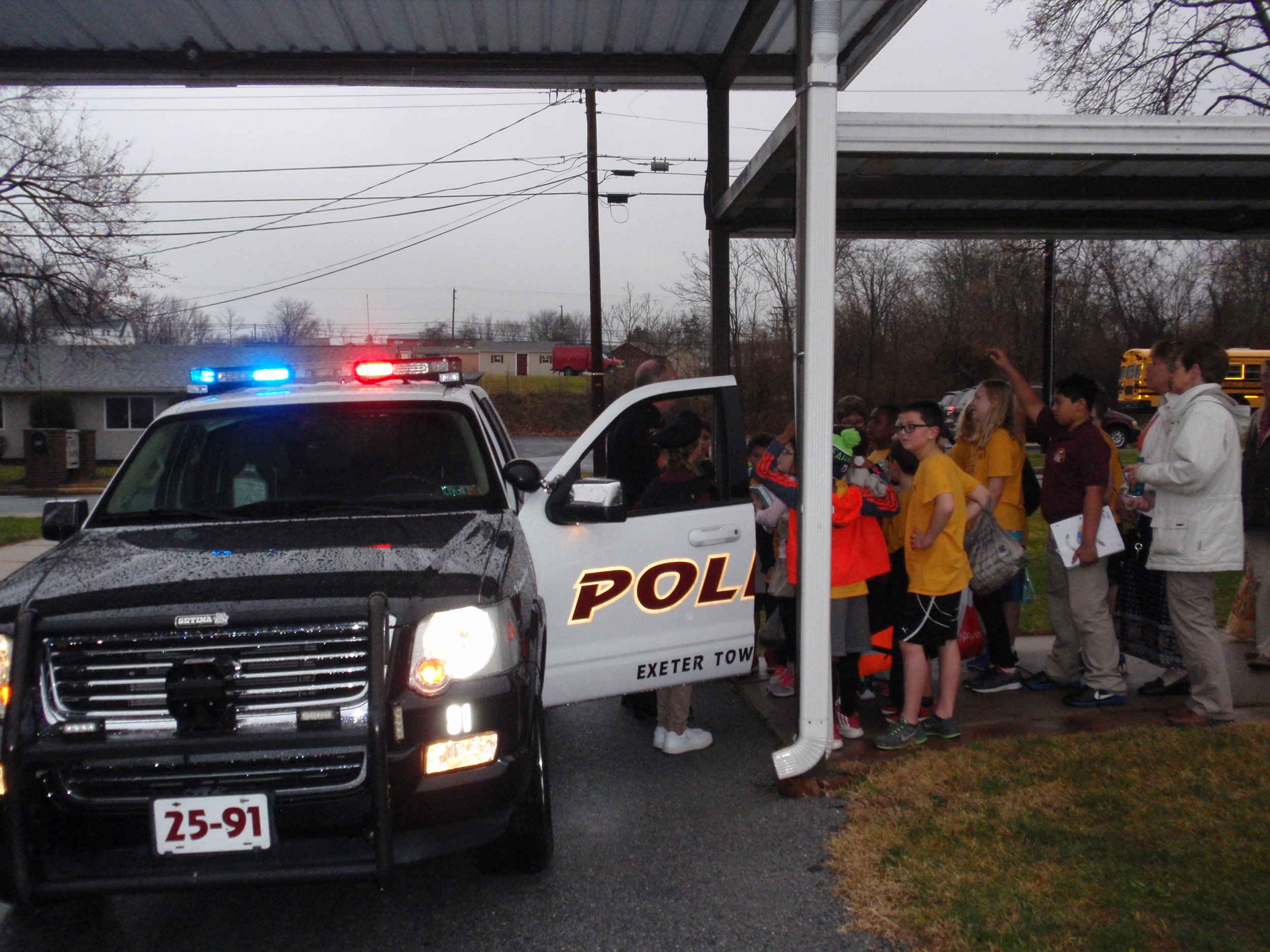 Our elementary students were greatly privileged last week to meet a local police officer. Sergeant Dave talked to the students about safety and the work police officers do for us and our families, and even allowed students to check out his squad car. What a great opportunity for our students to have a great hands-on meet and greet with a local community helper!