Upcoming Events
November 7: TONIGHT! Winter Athletic Meeting @ 6:30 pm
November 11-14: Vision and Health Screenings (K-12)
November 12: Moms in Prayer @ 8:00 am (In the music room)
November 21: PTO Meeting @ 6:30 pm (In the library)
November 25: Preschool Thanksgiving Feast
November 27: 1/2 Day of School, Grandparents Day
November 28 & 29: Thanksgiving Break
December 10: Christmas Concert @ BCS (All K-8, Band, and Vocal Ensemble)
December 13: Christmas Concert @ WCA (Band and Vocal Ensemble)
December 15: Love Came Down Concert @ WCA (High School Choir and Vocal Ensemble)
December 18-20: Midterms (please don't schedule appointments)
December 19: Preschool Christmas program
December 20: Q2 end
December 23-Jan 3: Christmas Vacation
HEALTH SCREENINGS | NOVEMBER 11-14
All BCS students will be tested by school nurses from the Exeter School District. All students in grades K-12 will have their vision tested. Students in K, 1, 2, 3, 7, and 11 will have their hearing tested. Students in grade 6 will also be examined for scoliosis. (This will involve students bending over and being asked to lift their shirt for the nurse so that the spine can be examined. Please alert your 6th grade student of this, if you think it will be concerning to him or her.) If your child fails his/her vision or hearing screening, a letter will be sent home to you indicating the failure. You must then follow up with a physician for further examination.
Make sure your grandparents save the date! November 27th, a half-day of school, is our annual Grandparents Day.
The day kicks off with a breakfast for students and grandparents to share. The day continues with activities for grandparents to share with their grand kids, and then ends with an all-school chapel event. Parents are welcome to attend the chapel as well. This is a half-day of school, so if grandparents and students want to spend the afternoon together, it's a great opportunity for them to go out for lunch after dismissal.
Grandparents will be receiving invitations in the mail, so if the grandparents in your family have moved, or if you're a new family to BCS this year, please email Miss. Klase rklase@berkschristian.org with the appropriate addresses.
We need lots of volunteers to help provide breakfast, so if you can help, sign up here.
SENIOR CLASS POINSETTIA SALE
Poinsettias are for sale to benefit the Senior Class. Ask your friends and neighbors if they'd like to order their Christmas poinsettias from BCS to support the senior class! 8 colors are available. Make sure you order by November 26th. The poinsettias will be delivered the second week of December.
Place your yearbook order now for the discounted cost of $40 by November 27! After the 27th the cost goes up to $45.
A fun way to treasure your child's artwork
40% off school uniforms
TODAY IS THE LAST DAY TO SAVE BIG ON UNIFORMS
The PTO is launching our second annual fall fundraiser, Cards for a Cause.
Each sturdy keepsake box contains 30 beautifully embellished greeting cards for $30, with the exception of the NEW holiday card box. The holiday box contains 50 cards for the same low price of $30!
There are 5 different boxes to choose from;
All Occasion 1 and 2 include new home, congratulations, new baby, thank you, etc.
Thanks & Blanks includes 19 blank cards and 11 thank you cards

Kids Birthday includes 30 cards for boys and girls-a great gift for a teacher!

Holiday includes 2 New Year, 4 Valentine's Day, 2 St. Patrick's Day, 4 Easter, 2 Mother's Day, 2 Father's Day, 2 July 4th, 2 Grandparent's Day, 2 Halloween, 2 Thanksgiving, 2 Hanukkah, and 24 Christmas/holiday
Orders are due into the school office by November 8th! More information, including the order form, will be coming home with your child tomorrow. Come check out samples of the (All Occasion) cards in the school office.
Thanks to all who signed up for helping with the Holiday Bazaar in December 21st.
Here is the sign up for donating food and supplies for our Holiday Bazaar in December. Please take a look and choose a few ways you can help. https://www.signupgenius.com/go/10C0F4BAEAC2DAAF94-bcspto
Please share and make your plans to attend with family and friends!
PTO NEXT MEETING
Hope to see many of you at our next PTO meeting on November 21st at 6:30 pm in the library. Email cristina.urban.ot@gmail.com to be added to our contact list.
Calling all moms, grandmoms and spiritual moms of BCS students. You are welcome to join us as we pray together weekly on Tuesday mornings from 8-8:30 am in the music room, with praises, confessions, thanksgivings and requests. Come once or come every week!
Next meeting:
Tuesday, November 12: 8-8:30 am
Tuesday, November 19: 8-8:30 am
Tuesday, November 26: 8-8:30 am
I am not exactly what you would call a Hebrew scholar (in fact, not even close) but I recently encountered a Hebrew word that I have kind of fallen in love with. The word is shabot, and it means "to stop". Shabot is the Hebrew word for Sabbath, and according to Tim Mackie from The Bible Project, this is the word that was used to describe what God did when He finished making the world.** On the 7th day, He rested. Or put in another way, He stopped. He "shabot"ed. And He calls us to do the same.
This concept of rest and Sabbath is one that has been popping up for my husband and me in all kinds of places lately - books we've come across, sermons, articles, podcasts, and even secular writings. Somehow it seems like God is trying to relay a message to mankind. It's like we all know we need to figure out how to do this resting thing better, but to be honest we're generally pretty terrible at doing it. We are so bent on working that often even the goal of trying to create rest is something we feel we need to achieve, that we need to work harder at it so we can do it better. So we're literally working in order to stop working.
It can be a little dizzying.
On The Bible Project's current podcast series 7th Day Rest, they use a humorous but helpful analogy to explain how God's original plan for sacred work is rather like a kid organizing his Halloween candy. It could be considered work, but really it's all a gift. It's more like play. Work was originally given to us by God as a gift. But we have since become so addicted to working that most of us can't do it without falling into the flawed mindset that our work is something which depends on us. So we are commanded, at least once a week, to just stop. Shabot.
Of course this stopping will look different from one person to the next, but the key seems to be that we stop doing whatever we tend to feel like on a normal basis we "should" do. Stop doing those things about which we mistakenly think, if I stop doing this or that, my world will fall apart. Because it all depends on me.
But actually, it doesn't. When we trust the process that God has set up for us, it may change us more than we imagine it could. It provides what Emily P. Freeman calls space for our souls to breathe, and it reminds us that the world will indeed keep spinning even when we stop working for a little while.
One last thought - another concept that prevents us from resting well is our struggle to know how to deal with time. As Abraham Joshua Heschel says, "Reality to us is thinghood, consisting of substances that occupy space." When it comes to time, however, we often think of it as an enemy because no matter what we do, we cannot control it, fit it into a space or change it. So we race and even fight against it. But what if time itself is something God has put in place to again gently remind us, we are not in control? Time will continue moving at exactly the same speed, regardless of what we do or don't do. And God will continue being God whether we are working or not.
Pray with me…
… for times of quietness and rest, individually and as a community
In repentance and rest is your salvation; in quietness and trust is your strength. Isaiah 30
… that God will open our eyes to His work as we rest
Be still and know that I am God. Psalm 46:10
… for wisdom for BCS leaders to grow and help our students grow in becoming people who rest
Teach us to number our days, that we may gain a heart of wisdom. Psalm 90:12
Soli Deo Gloria
To God alone be the glory
~ Carrie Warner, BCS Prayer Team Coordinator
**For more on shabot, and an in-depth study of the concept of rest and the number 7, check out The Bible Project's current podcast series, 7th Day Rest.
VOLUNTEERS NEEDED: UPDATE: No takers yet since last week, are you able to serve?

We are still in great need for Recess Parents: still need 1 Tuesday, 1 Wednesday, 1 Friday. Being a recess parent is a great way to connect with our students and build relationships with our school community. These volunteers are critical to keeping our students safe and cared for during lunch and recess. Thank you to our 7 parents who have already stepped up, 3 more to go! (We'll take grandparent recess parents too!)
Thank you to our volunteers!
Key Dates & Information
TONIGHT! Thu, 11/7 @ 6:30 pm: mandatory winter sports meeting for all basketball athletes & parents

Mon, 11/18: practices begin
Please visit berkschristian.org/athletics for forms needed before 11/18.
Open Gyms
If you signed up for basketball, you're encouraged to come on out to these non-mandatory opportunities to play together before the season begins! Students may stay after school for all November open gyms.
HS Boys
Fri, 11/8: 5:30pm-7:30pm

Tue, 11/12: 5:30pm-7:30pm

Fri, 11/15: 5:30pm-7:30pm
MS Boys
Fri, 11/8: 4:15pm-5:30pm

Tue, 11/12: 4:15pm-5:30pm

Fri, 11/15: 4:15pm-5:30pm
MS Girls
Fri, 11/8: 3:00pm-4:15pm

Tue, 11/12: 3:00pm-4:15pm

Fri, 11/15: 3:00pm-4:15pm
Schedules and forms are available at berkschristian.org/athletics.
Please use this for up-to-date information on games & practices.
CONGRATULATIONS TO THOMAS FOR BEING NOMINATED AS STUDENT OF THE QUARTER IN AUTO TECHNOLOGY 1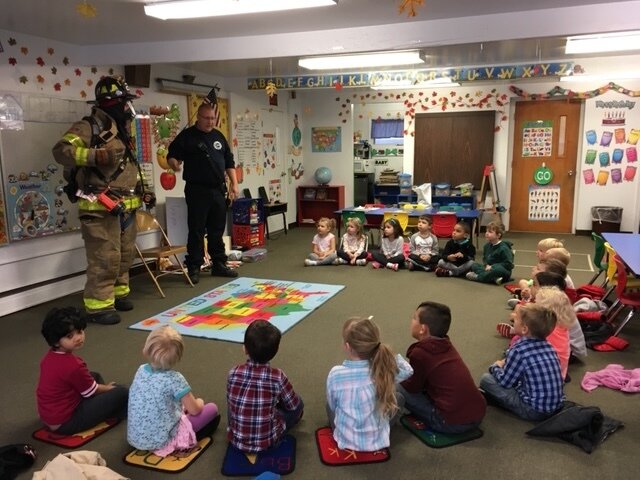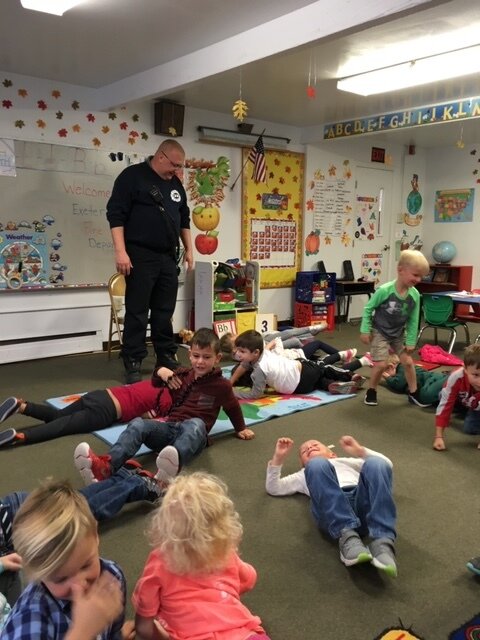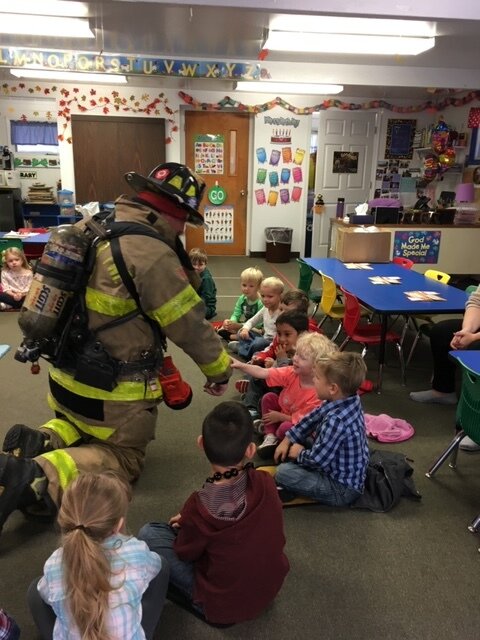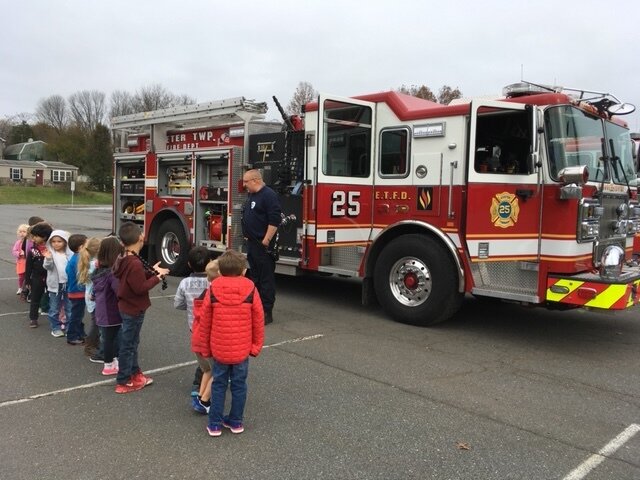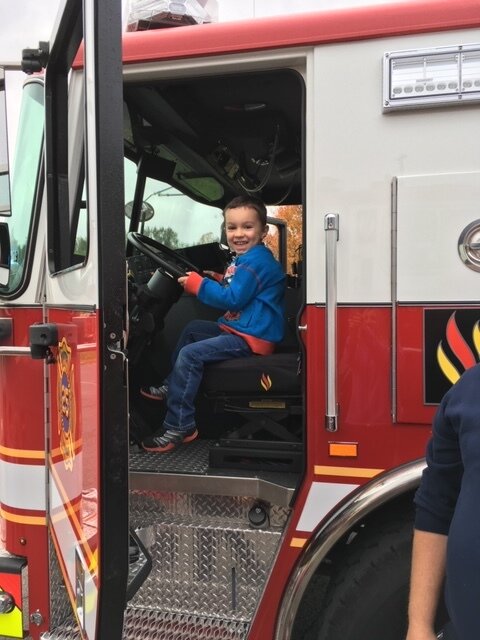 Preschool students enjoying their visit with the Exeter Township Fire Department.